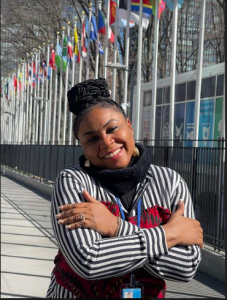 Dr. Ugochi Ohajuruka is a Renowned Medical Doctor and Public Health Practitioner. She holds a Bachelor in Science (B.Sc) Degree in Microbiology, a Degree in Medicine and Surgery (MBBS) and a Masters Degree in Public Health (MPH) from the University of Liverpool, United Kingdom.
She also holds a Certificate in Strengthening Community Health from Harvard University Boston Massachusetts USA, another Certificate on International Women's Health and Human Rights from the Stanford University, USA and a Certificate in Leadership and Management in Health from the University of Washington, USA.
Dr. Ugochi Ohajuruka is a dogged Menstrual Health activist /Anti Female Genital Mutilation advocate, an Author and the CEO/Founder of Health for All Initiative (HAFAI). She has worked as a consultant for several International Organizations and is passionate about her work and always in the fore front of activities on Health Promotions Sensitization, Capacity Building and Service Delivery to those in need. She was actively involved in the prevention and spread of Ebola and the COVID 19 pandemic in Nigeria. She believes in mentoring young girls and empowering women.
She has represented Nigeria at the Commonwealth Heads of Government Meeting (CHOGM) Malta and at the United Nations Committee on the status of Women (UNCSW) Newyork, USA, where she was a forum speaker and Panelist.
She is a Fellow of the African Institute of Public Health Practitioners (FAIPHP), Member of the Medical Women Association of Nigeria (MWAN), Association of Public Health Practitioners in Nigeria (APHPN), Business and Professional Women (BPW) Christian Medical and Dental Association of Nigerian (CMDA), among many other professional organizations.
She has won several international awards, one of which is the prestigious Alexander Price for Women Award by the Common Wealth in the UK and the Here for Good Award by Laureate, the largest Global Network of U.K universities and also the Rotary International Award.
Dr Ugochi lives in Abuja Nigeria with her husband and children.