7th September 2021
Posted by:

Hafai

Category:

Uncategorised

International Women's Day March 8, 2021
Health Aid For All Initiative, HAFAI in partnership with DreamHome and HUMANx commemorated international women's day on the 8th of March, 2021 with the theme; "choose to challenge" at Gurku IDP community Nasarawa State.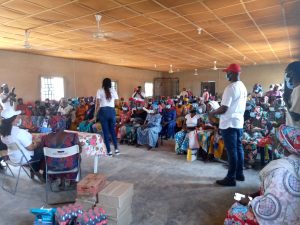 Training on hygiene education, sensitization and capacity building program was carried out in Gurku IDP community to enhance personal and menstrual hygiene management among women. The program also featured empowerment program thereby creating opportunities for better living. It was discovered that women find it difficult to talk about menstruation amongst their peers, the issue is almost never talked about with their husbands either.
Women were sensitized on personal and menstrual hygiene management and were also encouraged to embrace and improve menstrual hygiene management practices while the men were encouraged to support their wives during their period. The women were trained on how to make HAFAI reusable pads with the hope that they will also train other women in the camp. Thirty (30) Reusable pads and ten (10) starter packs were distributed to enable the women start up a business through the production and marketing of the reusable pads in order to help them generate income to assist their families.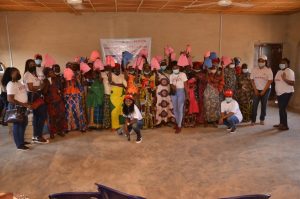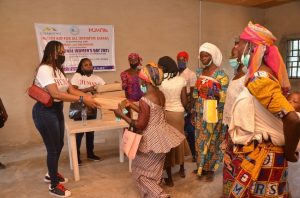 Children's Day Edition of HerStory Radio Program (27th May 2021)
HAFAI in collaboration with Global GLOW USA is currently running a program to reach out to club members in schools and Internally Displaced Persons(IDP) Camps through HerStory Radio program broadcasting on Boss FM 95.5 every Saturday from 3:00pm – 3:30pm. Learning must continue even with the pandemic, as such the program began during the COVID 19 lockdown to reach vulnerable girls in other for them to continue learning while at home. Solar powered radios were distributed to three different IDP camps in Abuja and they were handed over to the club coordinators who always encouraged the girls to assemble before the broadcasts, as well as tune in for the girls in the camp to listen, participate and learn from home.
The HerStory radio program has changed the lives of our club members who were shy when we started but are now confident in themselves, talk on radio and speak out on behalf of other girls.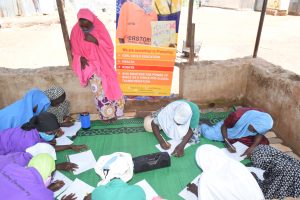 The radio program is a platform created to educate young girls on core moral values and leadership skills, and make them understand the importance of education, use their strength to grow and make positive changes in their lives and communities. It has helped to engage listeners where access to online learning is a challenge and also to raise awareness, promote education of the girl child and  serves as an avenue for girls to share their personal stories and discuss issues that may be affecting their lives. The weekly program is accompanied by community building activities and advertorial on how  to curtail the spread of COVID 19.
The program is aired in English and translated in Hausa, the local language spoken in Internally Displaced Persons Camps (IDP) for our listeners who have little or no understanding of English language. HerStory radio program is anchored by two mentors, with some of the girls participating in the radio program and content production. The program is informative and educative and the curriculum is carefully written to suit the needs of girls and they will get to learn about importance of relationship, decision making, storytelling, self-Advocacy, community service and igniting the power of girls.
In Nigeria, Children's Day is marked annually on the 27th of May as a school free day in honor of children.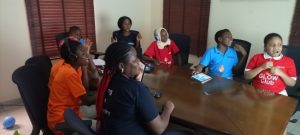 Children's day edition of HerStory radio program was anchored and presented by some dedicated listeners and active Glow Club members during the children's day celebration. The girls had a great time celebrating and demonstrated leadership and confidence during the production. The program was interactive, well-coordinated, and interesting. Girls at home always make extra effort to listen to the radio program and we have received wonderful feedbacks from their learning experience. The radio program has attracted a lot of volunteers to our organization who wants to join us in the field, participate and meet the club girls physically.
SUCCESS STORIES
At Kuchingoro IDP camp, Maryamu who is the club representative call out the girls from house to house to join the rest of the club members and listen to the radio program every Saturday.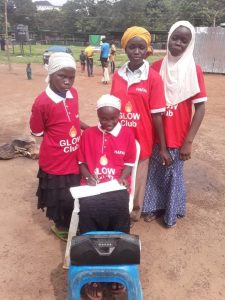 Girls that participated during the children's day edition of HerStory radio program production were excited to listen to themselves talk over the radio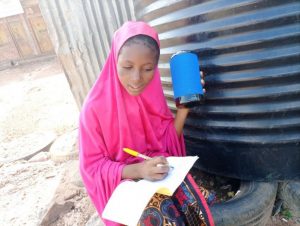 Zahra couldn't find the radio in the house and she didn't want to miss herstory radio program, she decided to use her mother's mobile phone to listen to the program.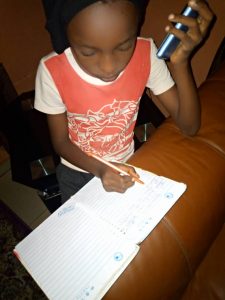 Kaltimi is a thirteen-year-old girl in Durumi IDP who was nominated by other girls to keep and charge up the radios and remind the girls of the radio program as Safiya their coordinator is heavily pregnant. Kaltimi does this happily and effectively and she has been able to mobilize all the girls in the IDP camp to always come together to listen to the program.
Menstrual Hygiene Day 28 May, 2021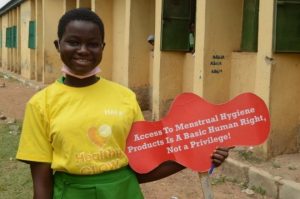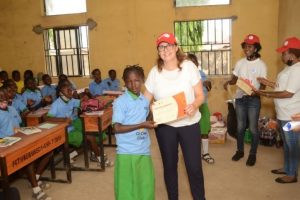 Menstruation is a normal biological process and not a disease or something to be ashamed of, therefore, women and girls should be able to talk about it freely. Menstrual hygiene management encompasses personal hygiene, access to menstrual products, safe space for changing and the right information about period. Menstrual hygiene day on the 28th of May was observed/celebrated with sensitization on menstrual health, period facts, myths and taboos. Menstruation is totally normal and is defined as the flow of blood from the inner lining of the uterus through the vagina. Menstrual hygiene day is celebrated every year to emphasize the importance of understanding menstruation and to dispel the myths, stigma and taboos surrounding the issue. Girls between the ages of 11 to 14 who have little or no knowledge about transition into adulthood were enlightened about the importance of menstruation and how to manage it hygienically in a safe place with dignity and confidence.
Boys were part of the celebration and participated by pledging to support girls during their period. Menstrual hygiene day celebration includes dispelling the myths and taboos and learning about period facts, proper handwashing technique and coloring competition.
All the girls received dignity kits at the end of the menstrual hygiene day celebration.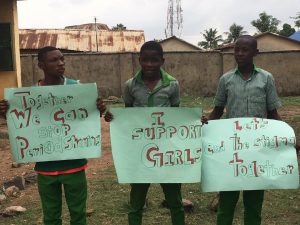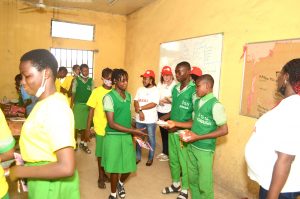 Training of Adolescents in schools and IDPs on Contraceptives Usage and prevention of Sexually Transmitted Diseases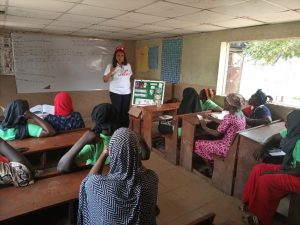 Globally, there is a growing concern for the reproductive health of adolescents. Research has shown that adolescents (recognized by the World Health Organization as persons aged 10-19) have early sexual exposure but lack adequate information and planning skills to manage their reproductive health (UNFPA and PRB, 2012; Morris and Rushwan, 2015).
According to Chinwe Onuegbu & Kabiru Salam in his editorial (Internal Displacement & Reproductive Health Information) reports show that globally, 16 million adolescent girls aged 15-19 years and two million girls under age 15 give birth every year, while an estimated three million adolescents pursue abortion yearly (Women's Refugee Commission, Save the Children, UNHCR, UNFPA, 2012). Adolescents, either male or female are vulnerable to poor sexual and reproductive health, however young female adolescents feel the heat more (Nwagwu, 2007; UNFPA, 2016).
In Nigeria, about one-quarter of adolescent males and half the population of adolescent females are involved in early sexual intercourse (Cortez, Saadat, Marinda and Odutolu, 2016).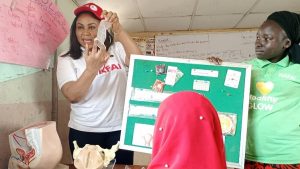 In the light of the above, HAFAI in collaboration with Global GLOW on the Healthy GLOW project trained the adolescent girls on the dangers of STIs, early pregnancy, the need for sexual abstinence and the usage of contraceptives.