HerStory Radio Program is a platform that is used to educate/teach girls between the ages of 11 – 16 about some core moral values and help them build their confidence, leadership skills, self-esteem and inspire others. It is also an opportunity for girls to air their views, share their personal stories, learn new things, send questions/topics that may be affecting their lives for discussion and for their voices to be heard. The program is aired weekly, every Saturday between 3pm – 3:30pm on BOSS FM 95.5, and is convenient for both school and out of school children to listen and participate during the activities in the comfort of their homes.
HerStory Radio program is interesting, interactive, informative, educative and a well-coordinated program that is anchored by our mentors and some of the girls participated in the content production and has made a lot of positive impacts in the lives of our listeners which are now bold and brave and have exhibited some leadership qualities compare to when we started. Some of the girls that participated during the production in the studio mentioned how they were excited to listen to themselves talk over the radio and how proud and happy their parents are listening to them on the radio.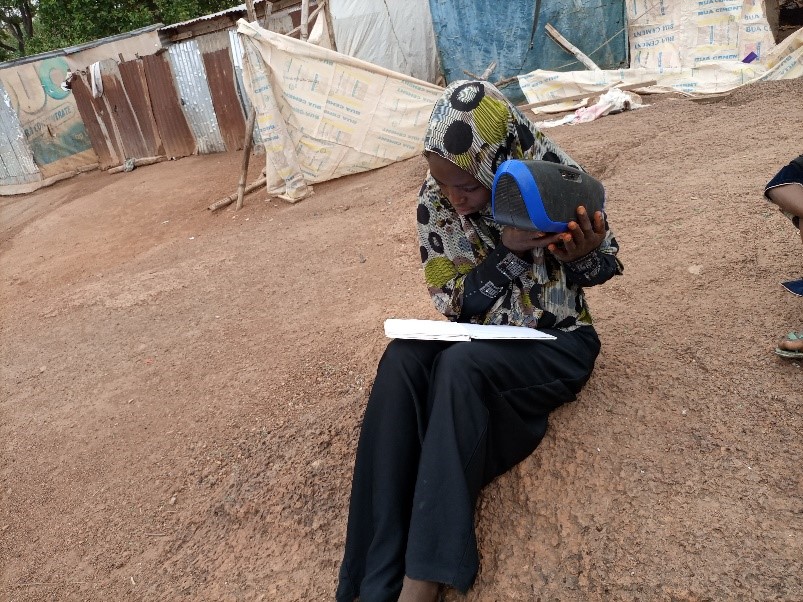 Majority of our listeners have showed a lot of improvement in their communication skills, and have gained confidence in themselves which has erased the fear of expressing their opinions as they were taught to raise their voices and say what they want and need during the program. We received several calls and interesting feedbacks from our listeners, Glow club members and parents at home that follow the program on the impact and how the program has given them the opportunity to be busy, and learn new things instead of playing around with their friends. The mentors reported that they enjoyed interacting and leading the program as well as educating and making a difference in the lives of girls listening to the program. The use of Hausa language to translate has given some of the out of school girls in Internally Displaced Persons, IDP Camps the opportunity to listen to the program because they understand the language used during the program.
In some schools, the principals now listen to the programs and have encouraged their students to tune in, listen and be part of the program in order to learn new things especially different ways they can add value and engage in their community instead of wasting their time watching television or engaging in bad and unhealthy conversations with their friends. In IDP camp, some of our constant and committed listeners usually call out other girls in the camp to join them and listen to the program. One of our constant listener and club member Kaltimi has been able to mobilize all the girls in the camp to always come together to listen to the program. Some of our listeners use their parent's mobile phones to listen to the program as well. We paid a visit to the girls in the 3 IDP camps in Abuja during the radio program and they were excited to listen to the program with us.
School girls sent pictures of themselves listening to the radio program and further explained what they have learnt. A lot of girls that showed interest to join the Glow Club in their school now listen to HerStory radio program and are excited to be involved as well. The radio program has made GLOW club to be accepted as some of the parents were not sure what the club was all about but after listening to the Radio program and activities, they were happy that their children are learning about good morals and values instead of playing all the time with their friends.
SUCCESS STORY
One of our listeners named Fatima used to be a shy girl but that has changed since she started listening to Herstory radio program, she is now proud to be a girl and is excited to speak up for herself and participate in her community.