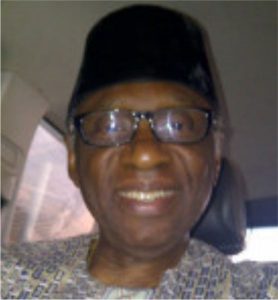 Dr. Azubike C. Ndukwe is an experienced medical doctor administrator with over 38 years of collective work experience managing the state house clinic of the presidency and as the personal physician of all Nigerian vice presidents and chiefs of general staff from 1986 -2007. As chief physician to the vice president and occasionally to the president, he was also in charge of administration and management of the state house clinic responsible for managing all doctors' nurses and other pharmaceutical and administrative staff at the state house clinic. He was also chief medical officer Nigeria airways (1978-1983).
Dr. Ndukwe has the following academic qualifications:
UNIVERSITY OF LONDON, LONDON, UK; Master of Science in Occupational Medicine (1985).
UNIVERSITY OF EXETER, UK; Course Certificate in British Medical Practice (1984).
UNIVERSITY OF SOUTHERN CALIFORNIA, LOS ANGELES, CA, US; Aviation Safety Programme Management Certificate (1982).
UNIVERSITY OF NIGERIA ENUGU, NIGERIA; MBBCh (1997 – 2000).
GOVERNMENT COLLEGE, UMUAHIA; Higher School Certificate (1966 – 1967).
IGBOBI COLLEGE, YABA, LAGOS, West African School Certificate – Grade One (1961 – 1966).
HONOURS AND POSITIONS HELD:
Member of the Order of the Federal Republic of Nigeria (MFR 2008)
Award of Service of the Nation (ICOBA Merit Award Ceremony 2006)
Board Member Federal Medical Centre Edo State (Oribhor Okhae Teaching Hospital)
PAPERS/PUBLICATIONS, COURSES AND CERTIFICATE
Certificate in Aviation Accident Investigation (1982), A study of the effect of excises on those who take part in supervised fitness program in London office (Marks & Spencer) – thesis submitted for MSc in occupational Medicine (1984)
Course in British Practice (1984)  
Dr Ndukwe also organized WHO sponsored immunization clinic and established a HIV clinic as part of his services at the State House Abuja. He has featured as guest speaker and chair person at various Medical Conferences.