Reusable  Sanitary Pads and Menstrual Hygiene Management
Menstrual Hygiene is a very important subject that is only recently beginning to gain the needed attention and be perceived from angles such as, gender equality, Water, Sanitation, and Hygiene (WASH), Reproductive health, Education and Public Health because of its impact on the environment, the economy, global workforce and nations development; education, family, health and safety of the girl child.
The Problem
The stigma and taboo surrounding menstruation is a human rights issue. It inflicts hardship, violence, discrimination, shame and indignity on women and girls which leads in some cases girls missing days out of school and even drop out of school entirely due to poor performance after so many absences. How then can we achieve gender equality? (SDG 5).The stigma around it violates their rights to human dignity, non-discrimination, freedom from degrading treatment, violence and abuse. Through our work in rural communities and IDP Camps, we discovered that girls use unhygienic substances such as mattress stuffing's, rags, leaves, feathers etc to manage their menstruation which exposes them to infections and infertility. Some do not even have knowledge about menstruation before its onset.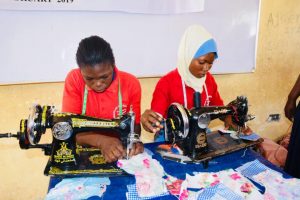 The Innovation
Through our unique identity and distinctive abilities, we have created an affordable, easy to maintain, sustainable, Reusable/washable sanitary kit produced from local fabrics. It washes with little water lasting up to three years and replacing up to 36 boxes of disposable pads, thus mitigating the environmental impact of disposable options and reducing vulnerability of girls in rural communities and during disasters.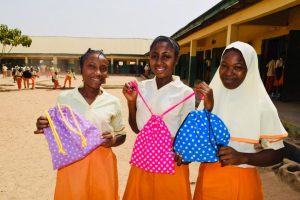 The impact
Advocacy in dispelling the myths and taboos surrounding periods, distribution of reusable/ washable sanitary pads and empowerment of women and girls on pad production to help earn a living and tackle poverty. In 4 years with support from donors and philanthropist, HAFAI has distributed over 22,400 reusable pads and have empowered 650 women with sewing machines and starter packs to start a pad making business and earn a living. These reusable pads distributed by HAFAI has helped to keep girls in school thus reducing absence rates of girls from 24% to 8%.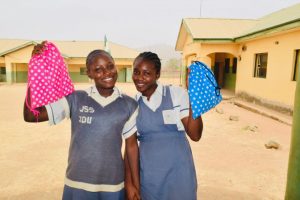 By engaging communities, HAFAI helps make sure that immunization is universally recognized as an essential practice to protect the health of all children. HAFAI works with community leaders, civil society organizations, health ministries and media to provide caregivers with reliable information on the safety, effectiveness and availability of vaccines. Adapting immunization services to local needs and values takes into account cultural norms, gender dynamics and other social factors so that these do not stand in the way of any child being vaccinated.
AT HAFAI WE ENGAGE AND INFORM COMMUNITIES
HAFAI uses participatory communication strategies to increase demand for immunization. Community by community, these strategies help health workers and local public health officials tailor their services to the public so more people can access and demand vaccines. As health workers are often the primary source of immunization information for parents and caregivers, HAFAI helps health staff improve their professional skills, including interpersonal communication to enable them adequately deliver their services.